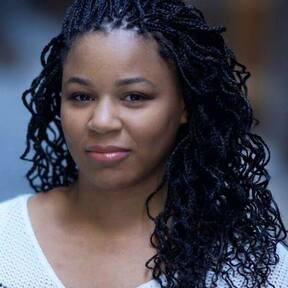 My name is Cheyenne Thornton and I am a 29-year-old adopted and disabled autistic writer born in Queens, New York and raised in Georgia. I am a US Navy veteran and a full-time student at Long Island University Brooklyn, where I'm pursuing an MFA program in TV Writing and Production at Steiner Studios. After serving in the Navy from 2010-2014, I found work in the beauty industry, but was unable to continue my career path due to service-connected disabilities and late-diagnosed developmental disorders.
My involvement in the online disability community led me back to writing, my first love, and I am now focused on creating a portfolio that showcases the views, experiences and possibilities of disabled minorities with hopes of one day seeing more diverse representation onscreen. My goal is to network, grow, and give back to my community by using my talents to spread awareness. I am a beginning blogger who focuses on neurodiversity, chronic illness awareness, medical research and news, and career support for disabled writers and artitsts.
I am available as a source and for personal essays, opinion editorial, research and academic writing in advocacy, creative, lifestyle and disability fields, and can be found at my website (under construction), LinkedIn, and Twitter @Chiarilis.
Additional communication availability: Email, text, chat (preferred), phone, video (available)
Languages: English
Experience:
-- US Navy Aviation Structural Mechanic (Sheetmetal/Metal Fabrications) and Armed Security Forces (Conflict, Weapons and Dispatch)
June 2010- March 2014
-- Aveda Institute of Cosmetology, 1700hr Cosmetology and600hr Esthetics programs
March 2014- November 2015
-- GallopNYC Therapeutic Horshmanship Program via the Mission Continues Fellowship Program (Veteran Liason and Program Assistant for veteran's program, disables children and adult lessons, previosly incarcerated youth program)
July 2016- January 2017
-- BA Business Management- Berkeley College
June 2014- December 2017 (transfer, degree incomplete)
-- BA English Writing and Rhetoric, Media Arts (minor)- LIU Brooklyn
January 2018- August 2020
-- MFA TV Writing & Production- LIU Brooklyn
August 2020- May 2021 (projected)
Who is your nominated Charity?:
Autistic People of Color Fund
Company or freelancer?:
Freelancer
Where can you best offer your services?:
Administration & Customer Service
Professional Services (Accounting, Legal, Consulting)
Research, Writing & Translation
Web, Software, and Game Development
No followed people